Fukuchiyama Castle(Fukuchiyama Castle Tower)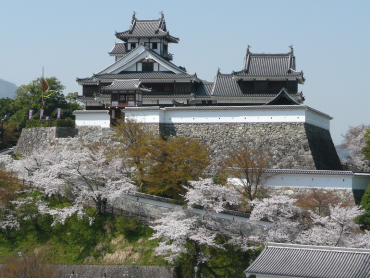 A castle with a beautiful Tenshukaku (castle tower) that is a symbol of Fukuchiyama. It is open to public as a museum now.
Fukuchiyama Castle, which was called Yokoyama Castle to the precursor , was be a fort of local ruling Yokoyama family.
Akechi Mitsuhide, who had gained control of the Tamba area, refurbished this castle with top-class castle architecture technology and changed the name into Fukuchiyama Castle.
There were several additional buildings such as a three-layered, four-storied castle tower and Ninomaru, an outer castle surrounding the main palace in this castle, However, the castle was destroyed after the abolition of the fiefdom system in the bagging of the Meiji era.
There are still remaining , at the present , stone walls at the time the castle was built, a water well which is called Toyoiwa-no-i, and a guard station.
The current castle was rebuilt in 1986 .
The inside space is open as a museum.
Visitors can see Fukuchiyama City Sato Taisei Memorial Art Museum in the same area, where art works of Sato Taisei, a master of Japanese paintings, are exhibited.
Information
Address
5 Naiki Fukuchiyama City , Kyoto Prefecture, 620-0035
Access
・It is five minutes by Kyoto traffic bus from JR Fukuchiyama Station
・It is 15 minutes on foot from JR Fukuchiyama Station
Hours
From 9:00 to 17:00 (Entrance: up to 16:30)
Regular holiday
Tuesday (in the case of holiday, the next day)
12/28-12/31,1/4-1/6"
Fee
110 yen for children (elementary and junior high school students)
330 yen for adults
URL1
https://www.fukuchiyamacastle.jp