Golden Japanese-Style Boat Osaka-jo GOZABUNE

castle
Tourist attractions
transportation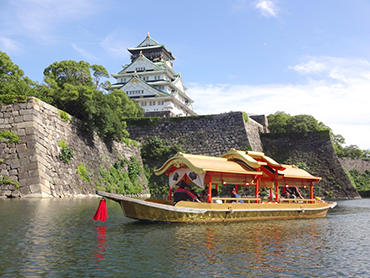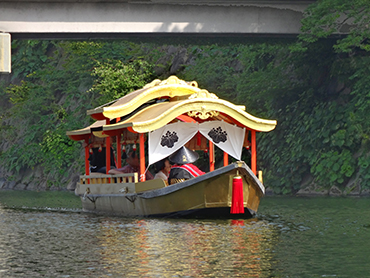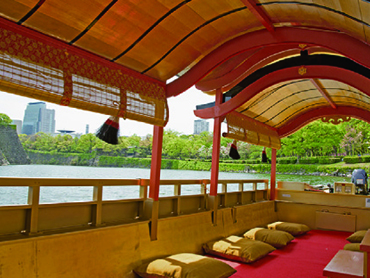 Cruising the moat by the golden "Osaka Castle's Pleasure Boat" which makes you feel like a ruler of the country!
The boat goes around the inner moat of Osaka Castle in approximately 20 minutes.
It is a great opportunity to enjoy the sight of the castle tower (the keep) from the inner moat. Enjoy the ride on the "the golden boat, Osaka Castle's Pleasure Boat" with the feeling of a ruler of the country!
This "Osaka Castle's Pleasure Boat" was reproduced by referring to Hideyoshi's Ho-Oh-Maru, which was painted on Toyotomi-Ki Osaka-Zu Byobu (The Folding Screen depicting Osaka in the Toyotomi Era) (owned by Eggenberg Castle in Austria).
Osaka Castle is located at the former site of Osaka Hongan-ji Temple.
Inside the Buddhist altars of the temple's sect is filled with gold leaf.
As seen at the Rikyu and Hideyoshi's golden tea-ceremony room, Hideyoshi loved gold deeply. Osaka Castle used to be also called the Golden Castle (Brocade Castle) for shining gold when the sunset reflected on the castle.
The stone walls of the Honmaruhigashi region were said to be Japan's most impregnable. When viewing the stone wall and Tenshukaku (the main tower of the Osaka Castle) from the moat, you will definitely be overwhelmed by its presence.

Golden Japanese-Style Boat Osaka-jo GOZABUNE
By presenting the KANSAI ONE PASS card
Boarding ticket 10% discount for both adults and children
Expiration date

Until March 31, 2023
Information
Address
the dock on the west of Osaka Castle Gokuraku Bridge
Access
Boarding Ticket Counter / Boarding Location
Boarding Ticket Counter: Please purchase tickets and check-in at the boarding ticket counter located on the Northwest side of "Gokuraku Bridge" which is on the north side of the keep of Osaka Castle.
Boarding location: The dock is located at the west side of Osaka Castle Gokuraku Bridge.
※Tickets can also be purchased at specific travel agencies.
Hours
10:00 - 16:30 (last departure)
Departs every 30 minutes (capacity: 34 passengers, one boat system)
Boarding time: about 20 minutes
Regular holiday
Daily service (Closed at year-end and New Year)
※The flight may be cancelled due to unseasonable weather. The flight is subject to change due to corona conditions. Please contact us for details.  
Fee
Adult: \1,500 (tax included)/ Child: \750 (tax included)
< Special fare for customers over 65 years of age> \1,000 (tax included)
※Children of elementary school ages or younger must be accompanied by a guardian.
URL1
http://act.qrtranslator.com/0016000001/000151