Useful as an IC card type ticket for travel on JR,
subways, privaterailways, and buses.
IC card type ticket with special benefits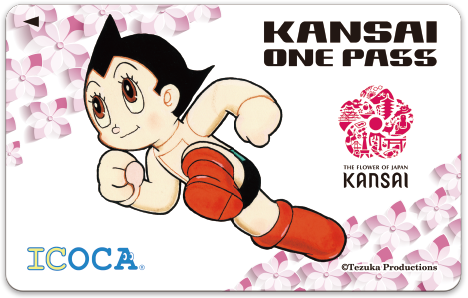 *Please note maximum recharge amount is 20,000 yen.
※KANSAI ONE PASS is sold only to and can only be used by foreign visitors,
who hold passports issued by foreign governments with the resident status of "temporary visitor."
(It may not be transferred.)
*Apologies if we're out of stock.
※Cash payment only
One card for all major public transit lines in Kansai!

KANSAI ONE PASS cards are accepted on major trains and buses in the Kansai region including transportation facilities with ICOCA, PITaPa, and IC markings.
*Not applicable for some transit lines.

Just touch the card at the ticket gate
and you're ready to go!

Touch the card to the reader on the right side of the ticket gate for more than one second, then walk through. The fare is automatically calculated.

No need to buy a ticket every time you get on the train.
The card is rechargeable.

You can get on major trains and buses in the Kansai region with a KANSAI ONE PASS card. Making connections is also simple and easy.

You can use it any time because
there is no expiration date.

Please use it again when you visit the Kansai region next time.
*It is also refundable with handling fee.
*These photos are for illustrative purpose only.
Sales location
Area
Railway name
Sales location
KIX
JR-West
Kansai Airport Station
Nankai Electric Railway
Kansai Airport Station Ticket Office
Kyoto
JR-West
Kyoto Station
Hankyu Railway
Hankyu Tourist Information Center, Kyoto-kawaramachi
Hankyu Tourist Information Center, Kyoto-karasuma
Keihan Electric Railway
Sanjo Station
Kintetsu Railway
Kyoto Station
Kyoto Municipal Transportation Bureau
City Bus & Subway Information Desk, Kyoto Station
City Bus & Subway Information Desk, Kotochika Kyoto
Osaka
JR-West
Shin-Osaka Station
Hankyu Railway
Hankyu Tourist Center, Osaka-umeda
Keihan Electric Railway
Kyobashi Station
Kintetsu Railway
Osaka Namba Station
Osaka Uehonmachi Station
Osaka Abenobashi Station
Nankai Electric Railway
Service Center, Namba Station 2F
Osaka Metro
Subway Information Counter, Shin-Osaka Station
Commuter Passes Sales Locations (Umeda Station, Namba Station, Tennoji Station)
Kobe
Hanshin Electric Railway
Hanshin Electric Railway Service Center (Sannomiya, Kobe)
Kobe Municipal Transportation Bureau
Kobe City Transportation Bureau Bus / Subway Customer Service Counter (Sannomiya)
Shin-Kobe Tourist Information Center
Discount services at many facilities
and shops by presenting the card.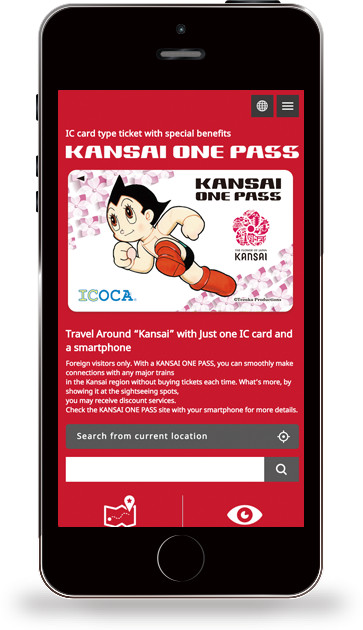 You can search sightseeing spots by category or area!

Search by category, area, or nearest tour spots from your current location.

Full of tourist information including
useful directions.

You don't have to bring guide books or maps with you. Sightseeing information and maps can be checked using only your smartphone.

You can receive discount services
at sightseeing spots
by showing the card.

At the participating facilities or shops, you can receive various benefits or services such as discounts.

Show the card at KIX for
special offers!

You may receive discounts or other services upon making a purchase by presenting the card at the duty free shops and other facilities within Kansai International Airport (KIX).
*Above web image is temporary. *These photos are for illustrative purposes only.
Notes

*Various discount services are available by presenting your KANSAI ONE PASS at the participating facilities and shops.
*Visit the KANSAI ONE PASS site (http://kansaionepass.com) for benefit details.
*If your KANSAI ONE PASS gets damaged, you will be issued a new card with the standard ICOCA design. New cards are issued the day after you report the issue at the office of a JR West, Keihan, Kintetsu, Nankai, Osaka Metro, Kobe Municipal Transportation Bureau, or Kyoto Municipal Transportation Bureau station at the ICOCA counter. Please note that you cannot qualify for complimentary benefits with a reissued standard-design ICOCA card.
*Please note that discount services may be terminated or modified without prior notice.
©Tezuka Productions