How to use at a ticket gate
Touch your KANSAI ONE PASS card to the reader on the right side of an automatic ticket gate for more than one second when you get on and off the train. The fare is automatically calculated at the station when you get off.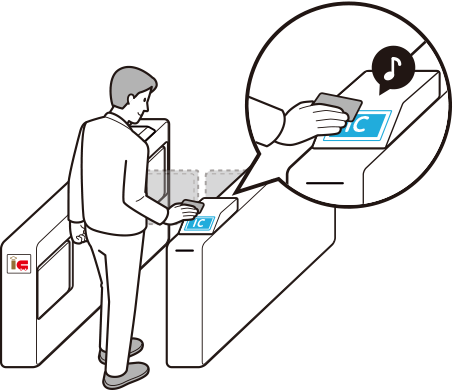 Can be used at automatic ticket gates and ticket machines with this mark.
Notes

*Do not insert into ticket slots as doing so may damage the card.
*If you do not touc xceeds the balance of the card. If this happens, please refill the card at the adjustment machines or ticket machines.
How to charge the card
Cards can be charged at ticket machines.(Cards can also be charged at most adjustment machines.)
Select "charge IC card."
Insert the card into the slot.
Select charge amount.
Insert cash.
Select with or without for the receipt.
*The procedure may vary by railway company.
About use of KANSAI ONE PASS for transportation

*It is accepted on most trains and buses in the Kansai region, with some exceptions. Please note it is not accepted on the Shinkansen. On the JR line, it cannot be used between stations of different JR companies.
(Please check the map for details.)
*It is also used on Japan's major trains and buses that accept ICOCA cards.
Refundable at station offices and similar locations of JR West, Keihan, Kintetsu, Nankai, Osaka Metro, Kobe Municipal Transportation Bureau and the Kyoto Municipal Transportation Bureau stations with ICOCA marking. The handling fee is 220 yen. If the balance is below 220 yen, 500 yen for deposit is refunded.
The card will be collected when refunded.
*KANSAI ONE PASS is also used at shops, facilities, and vending machines that accept ICOCA electronic money.
*Usage history of KANSAI ONE PASS will only be used for statistical analysis of transportation utility by KANSAI ONE PASS participating companies and companies that accept KANSAI ONE PASS. It won't be used for other purposes.