Zao-do, Kinpusen-ji Temple【World Heritage】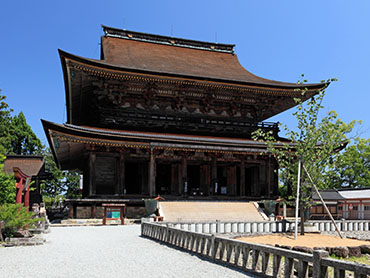 Kinpusen-ji Temple is the pinnacle of Shugendo, a Shinto-Buddhist cult devoted to rigorous training, ascetic practices and mountain worship. The temple is said to have begun when its founder spent one thousand days in practice and received a vision or impression of Shugendo leader Zao Gongen, and after carving that image into the trunk of a cherry tree, the worship at this place began. The 34-meter tall Zao-do is one of the largest-scale wooden building next to Todai-ji Temple, and is now registered as a World Heritage. "Kinpusen" means a string of mountains that starts in Yoshino and they have been sacred mountains for ages. Its symbol is the Zao-do. The temple's main three statues, Kongo-zao-gongenzo, are not on display and are usually kept inside the shrine.
Information
Access
Take the ropeway from YOSHINO Sta. to Yoshinoyama Sta., and walk for approx. 10-min
IKOMA Sta. -> Ikoma Cable HŌZANJI Sta. from which approx. 10-min walk
Hours
8:30 -16:30 (last admission 16:00)
Regular holiday
Open daily
Fee
Admission to the grounds is free (admission to Zao-do is 500 yen).
*Additional fees apply to special exhibitions.